Body Armors
Body Armors are Items which may be equipped into the body armor slot of Player Characters.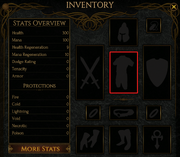 Body Armor has Added Armor as their primary implicit.
Unique Body Armors are Unique equipment that is equipped into the body armor slot.
Icon
Name
Type
Implicits
Rarity
Unique Effects
Flavor Text
Base Item
Req. Level
Doublet of Onos Tull
Body Armor
25-25 Added Armor
Unique
Minion melee attacks have 40% additional chance to bleed
100% increased bleed duration for minions
Adds 60 health
The horns of the Immortal Empire fill the hearts of the living with fear, and the bones of the dead with glory
Leather Coat
Exsanguinous
Body Armor
32-32 Added Armor
3-15 Increased Base Spell Damage
Unique
You lose 20% of your current health per second
Gain 20% of your missing health as ward per second
20% increased attack speed, cast speed, and movement speed if you have used a potion in the last 4 seconds
Immunity to Bleed at low life
Crazed is the mind of a blood starved Lich
Noble Raiment
23
Yrun's Wisdom
Body Armor
85-85 Added Armor
Unique
65 added health
30 added melee cold damage when above 65% health
30% of melee damage leeched as health when below 65% health
Yrun was wise in battle, but not in his betrayal of Heorot.
Banded Armor
27
Prism Wraps
Body Armor
25-25 Added Armor
Unique
30% less elemental damage taken
30% increased elemental damage
30% increased critical strike chance
2% to 8% of elemental damage leeched as health on crit
The elements shift like light through a prism, if you control the prism you control the elements.
Leather Coat
5
The Falcon
Body Armor
20-20 Added Armor
Unique
Adds 45 Dodge Rating
15% increased Movement Speed if you have hit an enemy in the last 5 seconds
May the dying breaths of your enemies put air beneath your wings
Refuge Armor
Titan Heart
Body Armor
114-114 Added Armor
29-114 Added Lightning Protection
Unique
Adds 50 Armor
100% less health regen (You do not regenerate health)
10% less damage taken
30% increased health
Heart of stone, blood of gravel
Copper Plate
15
Urzil's Pride
Body Armor
50-50 Added Armor
Unique
Adds 25 Armor
Adds 40 Mana
Adds 13 Strength
1% Increased mana regeneration per 100 points of armor
Strength of mind and strength of body are a potent combination
Iron Armor
15
Valeroot
Body Armor
No results No results
No results No results
No results No results
Weapon Range: 0m
Unique
Increased Base Spell Damage 40% - 60%
Health 40 - 60
Mana 40 - 60
Damage reflected to attackers 40 -60
The roots of Eterra grow through stone and flesh and time
Forest Garb
35
Set Body Armors are Set Equipment that is equipped into the Body Armor slot.
Icon
Name
Set
Type
Implicits
Rarity
Unique Effects
Set Modifiers
Flavor Text
Base Item
Req. Level
Sunforged Cuirass
Sunforged Masterpieces
Body Armor
220-220 Added Armor
Set
+400 to 500 Armor
+400 to 500 Fire Protection
+8% to 12% chance to forge a weapon when hit
+100% to 140% increased Fire Damage with at least 3 Forged Weapons
Set (2):
150% increased melee stun chance
Set (3):
Gain Inspiration when you stun an enemy
Solarum Plate
60
Name
Nickname
Type
Modifier(s)
T1 Range
T2 Range
T3 Range
T4 Range
T5 Range
Armor
Fortified
Prefix
Increased Armor
10  -  15
16  -  20
21  -  25
26  -  30
31  -  50
Armor
of Turtle
Suffix
Added Armor
6  -  25
26  -  50
51  -  80
81  -  120
121  -  180
Attunement
Attuned
Prefix
Added Attunement
1  -  1
2  -  2
3  -  4
5  -  6
7  -  8
Chance To Chill Attackers
????
Suffix
Chance To Chill Attackers
0  -  0
0  -  0
0  -  0
0  -  0
0  -  0
Chance To Find Potions
Lucky
Prefix
Increased Chance to Find Potions
11  -  20
21  -  30
31  -  40
41  -  50
51  -  70
Cold Protection
of Frost
Suffix
Added Cold Protection
11  -  40
41  -  80
81  -  130
131  -  200
201  -  300
Damage Dealt to Mana Before Health
Lunar
Prefix
Damage Dealt to Mana Before Health
5  -  5
6  -  6
7  -  7
8  -  8
9  -  10
Damage Reflected
????
Prefix
Damage Reflected
0  -  0
0  -  0
0  -  0
0  -  0
0  -  0
Damage Reflected to Attackers
????
Prefix
Damage Reflected to Attackers
0  -  0
0  -  0
0  -  0
0  -  0
0  -  0
Dexterity
Dexterous
Prefix
Added Dexterity
1  -  1
2  -  2
3  -  4
5  -  6
7  -  8
Dodge Rating (Added)
of the Monkey
Suffix
Added Dodge Rating
15  -  25
26  -  40
41  -  55
56  -  70
71  -  100
Dodge Rating (Increased)
Scout's
Prefix
Increased Dodge Rating
10  -  15
16  -  23
24  -  30
31  -  37
38  -  45
Elemental Protection
of Insulation
Suffix
Added Elemental Protection
6  -  25
26  -  40
41  -  70
71  -  100
101  -  150
Fire Protection
of Embers
Suffix
Added Fire Protection
11  -  40
41  -  80
81  -  130
131  -  200
201  -  300
Glancing Blow Chance and Armor
Deflecting
Prefix
Added Armor
Added Chance to Receive a Glancing Blow When Hit
4  -  8
3  -  4
9  -  13
5  -  6
14  -  19
7  -  8
20  -  25
9  -  10
26  -  50
11  -  15
Glancing Blow Chance and Health
Enduring
Prefix
Added Health
Chance to Receive a Glancing Blow when Hit
5  -  6
3  -  4
  -  
5  -  6
  -  
7  -  8
  -  
9  -  10
  -  
11  -  15
Health (Added)
of the Giant
Suffix
Added Health
5  -  15
16  -  25
26  -  35
36  -  50
51  -  80
Health (Increased)
of the Ox
Suffix
Increased Health
3  -  4
5  -  6
7  -  8
  -  
  -  
Health Gained on Potion Use (Added)
Restorative
Prefix
Added Health Gained on Potion Use
10  -  19
20  -  30
31  -  45
46  -  60
61  -  100
Health Regen per Second
Blessed
Prefix
Added Health Regeneration
1  -  2
3  -  4
5  -  6
7  -  8
9  -  10
Health Regeneration
of Regrowth
Suffix
Increased Health Regeneration
5  -  15
16  -  25
26  -  35
36  -  45
46  -  75
Intelligence
Scholar's
Prefix
Added Intelligence
1  -  1
2  -  2
3  -  4
5  -  6
7  -  8
Lightning Protection
of Sparks
Suffix
Added Lightning Protection
11  -  40
41  -  80
81  -  130
131  -  200
201  -  300
Minion Dodge Rating
Feline
Prefix
Added Minion Dodge Rating
35  -  65
66  -  100
101  -  140
141  -  200
201  -  300
Minion Health
Ursine
Prefix
Increased Minion Health
15  -  35
36  -  55
56  -  75
76  -  100
101  -  150
Minion Health Regen
Reptilian
Prefix
Increased Minion Health Regeneration
20  -  40
41  -  80
81  -  130
131  -  200
201  -  300
Necrotic Protection
of Purity
Suffix
Added Necrotic Protection
11  -  40
41  -  80
81  -  130
131  -  200
201  -  300
Poison Protection
of the Mongoose
Suffix
Added Poison Protection
11  -  40
41  -  80
81  -  130
131  -  200
201  -  300
Strength
Mighty
Prefix
Added Strength
1  -  1
2  -  2
3  -  4
5  -  6
7  -  8
Stun Avoidance
of Tenacity
Suffix
Added Stun Avoidance
15  -  35
36  -  60
61  -  100
101  -  150
151  -  250
Vitality
Vital
Prefix
Added Vitality
1  -  1
2  -  2
3  -  4
5  -  6
7  -  8
Void Protection
of Hope
Suffix
Added Void Protection
11  -  40
41  -  80
81  -  130
131  -  200
201  -  300